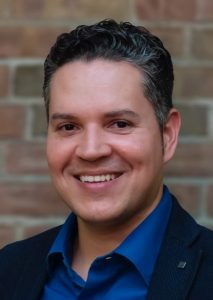 Diego Piedra is the newly appointed Music Director and Conductor of Spectrum Orchestra. A strongly driven performer and educator, Dr. Piedra was in high demand as the orchestral conducting professor at the University of Costa Rica and served as a guest teacher and performer in Venezuela, Honduras and Guatemala. For the last five summers, Dr. Piedra has been the featured guest artist at the Dubuque Symphony Orchestra's Summer String Camp working as a conductor, violinist and composer. Professional conducting engagements have included the National Symphony Orchestra of Costa Rica, the Municipal Orchestra of Cartago, the University of Costa Rica Symphony Orchestra and the University of Toledo Symphony Orchestra.
As a professional violinist he has been a member of the prestigious New World Symphony in Miami, the South Bend Symphony Orchestra, the Wisconsin Chamber Orchestra, the National Symphony Orchestra of Costa Rica and Concertmaster of the Orquesta de Cámara de Costa Rica. Dr. Piedra participated as violinist and assistant conductor for the University of Michigan's University Symphony Orchestra's tour, which culminated at Carnegie Hall, and won four Grammy awards in 2006. While in Costa Rica, he founded a national youth orchestra called Manuel María Gutiérrez at SINEM, and was its Music Director and Conductor from 2009-2011. At the University of Michigan he was the Music Director of the Campus Symphony Orchestra and the Campus Philharmonia Orchestra, and he conducted two full opera productions and numerous symphonic concerts. In the summer of 2017, Dr. Piedra was awarded with an honorary mention at a conducting competition in London, England.
Dr. Piedra holds a Doctor of Musical Arts degree in Orchestral Conducting and a Master of Music degree from the University of Michigan. He lives in Ann Arbor with his wife, Maria, and 10-month-old daughter, Clara.