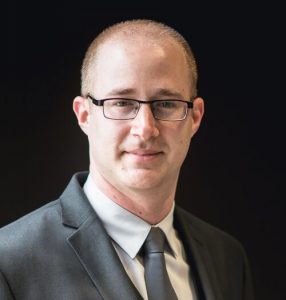 Israeli conductor Rotem Weinberg is known for his profound musicality and diverse musical approach. He is a cross-genre musician, at home in classical, operatic, and pops repertoires alike. In the 2021-2022 season he serves as Music Director of Spectrum Orchestra in Birmingham, Michigan, Associate Conductor of the Michigan Youth Symphony Orchestra, and Cover Conductor for the Detroit Symphony Orchestra.
Rotem began his conducting studies at the age of seventeen, under the guidance of Vag Papian. Before starting his חחacademic studies, he served in the Israel Defense Forces military band as head librarian and assistant conductor. He earned a BM in orchestral conducting from the Buchmann-Mehta School of Music of Tel-Aviv University, where he studied with Prof. Yoav Talmi, Yi-an Xu, and Ronen Borshevsky. His graduate studies took him to The University of Michigan, where he earned both MM and DMA degrees in orchestral conducting, studying with the renowned conductor and pedagogue Kenneth Kiesler.
At the University of Michigan, Rotem served as Music Director of the Campus Symphony Orchestra and the Michigan Pops Orchestra, bringing these ensembles to new musical heights. He also filled the role of assistant conductor to the prestigious orchestra program, supporting the work of four student orchestras. As cover conductor of the University of Michigan Opera Theater, he conducted operas such as Puccini's La bohème, Handel's Alcina, and William Bolcom's Dinner at Eight. In February 2018 he served as the first assistant conductor for the ground-breaking test performance of Gershwin's Porgy and Bess' new critical edition.
Rotem participated in workshops and masterclasses with world renowned orchestral conductors, including Simon Rattle, Zubin Mehta, Zsolt Nagy and Christopher Lyndon Gee. He participated in additional conducting workshops with Joseph Missal, Felix Hauswirth, and Laszlo Marosi.
In his native Israel, Rotem led many orchestral, wind, and vocal ensembles, achieving national acclaim as a conductor and educator. He received many honors and awards for his conducting and musicianship, including the America-Israel Cultural Foundation Excellence Grant in orchestral conducting (2014, 2015), the Buchmann-Mehta School of Music Excellence Scholarship (2011-2014), and the Tel Aviv University Dean of Arts Excellence Award (2011, 2012) for his outstanding musical and academic achievements.
An advocate of contemporary music, Rotem has collaborated with many composers. He has premiered works by Natalie Moller, Tyler Arnold, Nina Shekhar, Sawyer Denton, and Samuel Sussman.