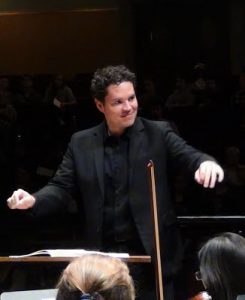 Diego Piedra is a strongly driven performer and educator. His university studies were completed at Baylor University, where he earned his bachelor's degree with honors, and at the University of Michigan, where he received Master's degrees in Violin Performance, and Orchestral Conducting. He studied with Bruce Berg, Stephen Heyde, Yehonatan Berick and Kenneth Kiesler.
His participation in master classes have included international stars such as Sir Simon Rattle, Carl St. Clair, Gennady Rozhdestvensky, Giancarlo Guerrero, Guarneri String Quartet, Florestan Trio, Andrew Manze, and Almita Vamos. As a professional violinist he has performed with the prestigious New World Symphony in Miami, the South Bend Symphony Orchestra, the Wisconsin Chamber Orchestra, the National Symphony Orchestra of Costa Rica and as Concertmaster of the Orquesta de Cámara de Costa Rica.
Mr. Piedra participated as violinist and assistant conductor in the tour of the University Symphony Orchestra of the University of Michigan (winner of four Grammy awards in 2006), which culminated at Carnegie Hall, New York.
While in Costa Rica, he founded a national youth orchestra called Manuel María Gutiérrez at SINEM (the Costa Rican version of Venezuela's El Sistema), and was its Music Director and Conductor. Before returning to Michigan, Mr. Piedra was in high demand as an orchestral conducting professor at the University of Costa Rica as well as a guest teacher and performer in Venezuela, Honduras and Guatemala.
During the last four summers, Mr. Piedra has been the featured guest artist at the Dubuque Symphony Orchestra's Summer String Camp, working in both capacities as a violinist and conductor. Professional conducting engagements have included the National Symphony Orchestra of Costa Rica, the Municipal Orchestra of Cartago and the University of Costa Rica Symphony Orchestra.
Currently, Mr. Piedra is pursuing his Doctoral degree in Orchestral Conducting at the University of Michigan, where he leads the Campus Symphony Orchestra. This past summer Mr. Piedra won a honorary mention at a conducting competition in London, UK.