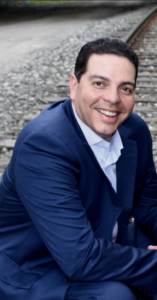 RÉGULO STABILITO grew up musically in the world-renowned project "El Sistema" in Venezuela, and he had the opportunity to start his career as a conductor at the age of 20, working directly with Maestro Jose Antonio Abreu and holding the responsibility of conducting principal orchestras in Venezuela.
In 2006, Stabilito debuted as guest conductor in Argentina and continues to receive frequent invitations to conduct there. He also has continued developing his career throughout Latin America, maintaining a very close relationship with principal orchestras in Venezuela, such as the Simón Bolívar Symphony Orchestra, the Venezuela Symphony Orchestra, and the Caracas Municipal Symphony Orchestra.
During his career, Stabilito has also had the opportunity to accompany renowned international soloists, in addition to making frequent appearances as conductor in ballet productions. In 2015 he debuted as Opera Conductor with the Primo Casale Opera Company and the Caracas Municipal Symphony Orchestra, receiving exceptional reviews and accolades, which resulted in his being invited for the 2016 and 2017 seasons.
Régulo Stabilito is a Lawyer graduated from Santa Maria University in Caracas. He studied conducting in Venezuela with Rodolfo Saglimbeni, Carlos Riazuelo and Manuel Hernandez-Silva, and his principal teacher and mentor was Alfredo Rugeles receiving his first master's degree at Simón Bolívar University. In 2019 Stabilito graduated as master's in music from University of Michigan. Currently, Stabilito is pursuing his Doctorate in Musical Arts under the guidance of Maestro Kenneth Kiesler in the Conducting studio of University of Michigan. As Co-Founder of LAMI (The Latin-American Music Initiative) where the principal activity is the edition and diffusion of Latin-American works, Stabilito keeps his relationship with different orchestras of Latin-America holding an interesting agenda of projects for the upcoming year.
Stabilito serves as Conductor of Campus Symphony Orchestra at University of Michigan, and as Music Director Spectrum Orchestra, in Beverly Hills, Michigan.